Content warning: The following story refers to someone coming out as transgender, as well as their experience transitioning, which may be triggering to some readers.
"My Story Changed," Kameron Winters
I was asked to write this story because I came out as transgender about two months ago and started medically transitioning shortly after. I was more than happy to share because I wanted to tell people my story. This week, my story changed.
Earlier this year I was talking to a friend of mine, a gender therapist, about what the process was to medically transitioning from female to male. I had been a masculine of center queer person for most of my adult life and was always comfortable in how I expressed myself. However, I never asked the question, "what does it mean to feel comfortable in your body?" "In the mass that you use to navigate the world every day?"

Sure, I wasn't a fan of my curves or how my shirts lay over my chest, but I thought that was everyone. I knew men's clothing was never going to fit me perfectly, but I started to realized it wasn't just what I was wearing. It was how I looked, it was my body, my gender. I wanted to change it. It wasn't until then that I realized that I was suffering from gender dysphoria, the condition of feeling one's emotional and psychological identity as male or female to be different than one's biological sex.

After going to a gender therapist, I decided to socially and medically transition. I've been fortunate because up until this point my parents, friends and coworkers have been extremely supportive. I realize I live in a fairly liberal city and my transition was a lot easier than most trans folk. I also recognize my privilege in the fact that I'm white, can afford to medically transition and can pass as a man. This can not be said for all trans people. I'm lucky that today I'm successfully living as Kameron Reese Winters.

This is where my story changes.
Only a few days after a devastating election I am overwhelmed by fear. Trump is our President elect and his agenda includes removing the pro-LGBT legislation that President Obama, along with the Supreme Court, implemented.
Many white, cis folks (both men and women) are dismissing our fear. But let me tell you why I feel fear:
1) Trump will create anti-LGBT legislation and allow us to be discriminated against on the basis of religion.
2) I don't want to lose my insurance. As someone currently taking testosterone and wanting top surgery at some point, will I be able to if my insurance is taken away? Probably not.
3) I haven't gotten a legal name or gender marker changed and I'm scared to start the process and I'm scared to wait. If I start I might only be able to change my ID, not my passport, social security card and birth certificate. If I wait, who knows if I'll ever get to change my name or gender marker.
4) Bathrooms. Bathrooms (which have always been a thing) will be an even bigger thing.
Those are just a few things I'm scared about and this is just the beginning of my transition and a Trump nation. I will not run. I'm going to stay, heal, rebuild, organize and fight like hell to keep the rights we have. To all my trans family, you are loved. Take care of yourself.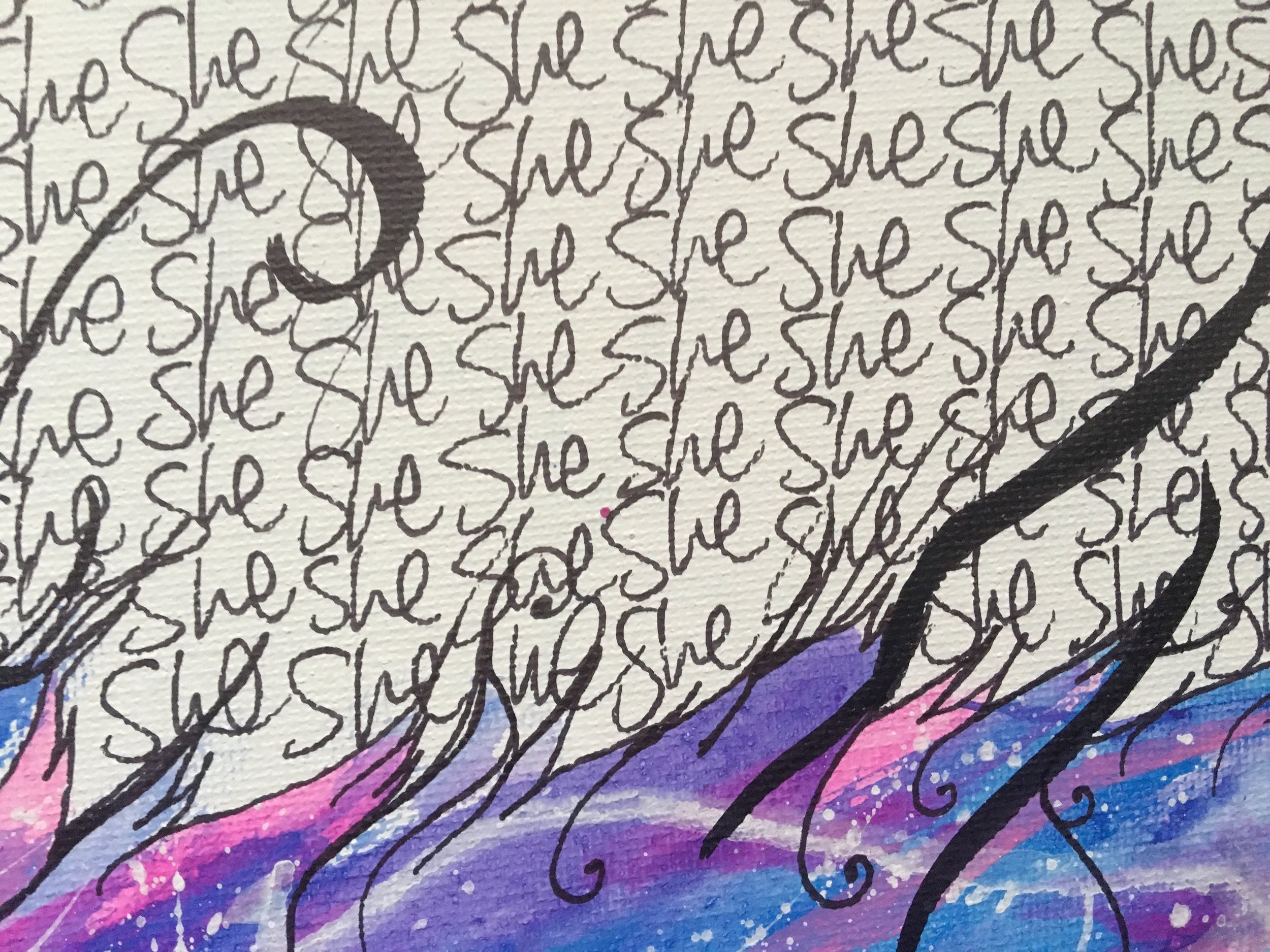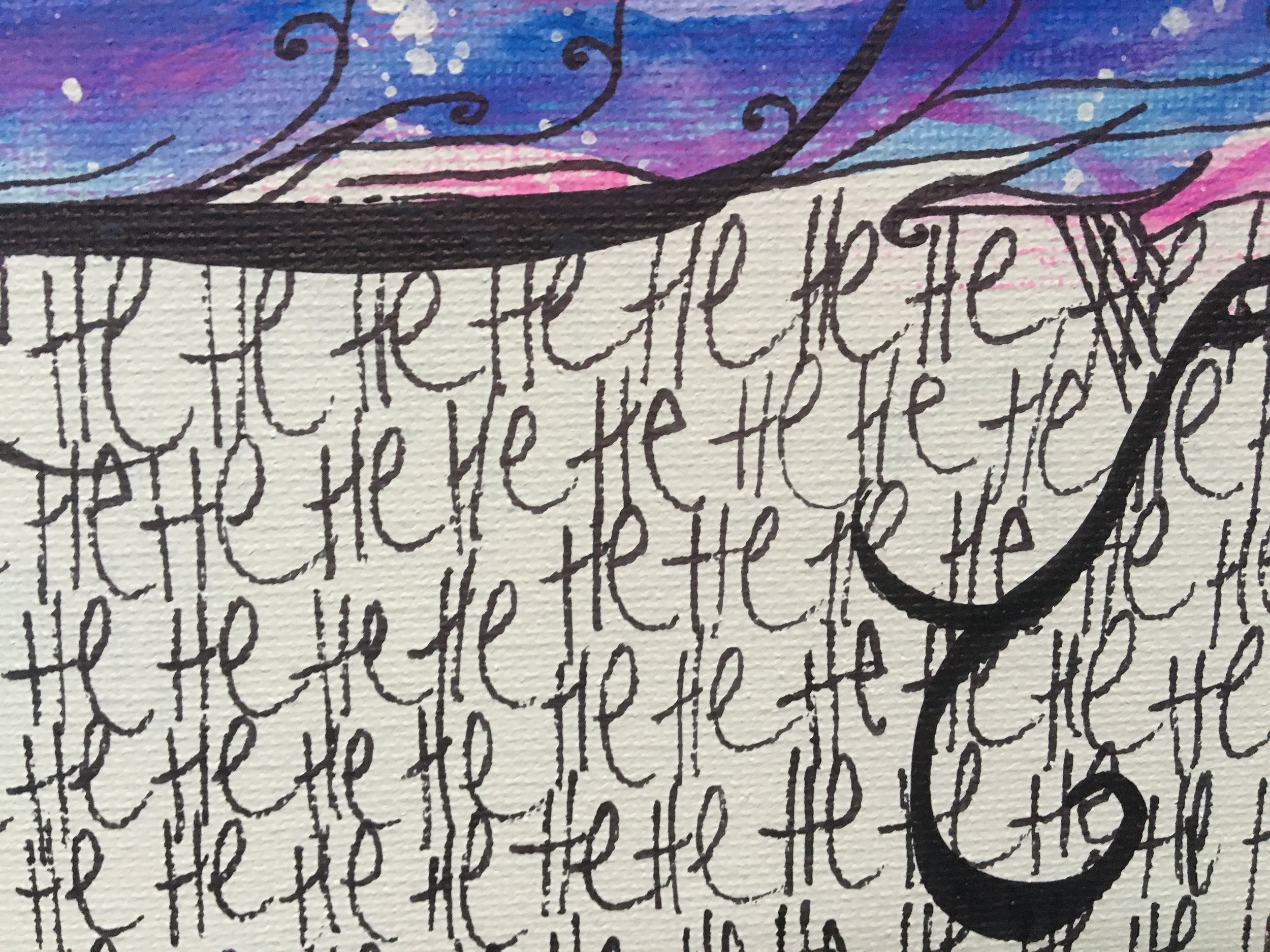 About the art:
I knew that when we got to Transgender and gender dysphoria stories that I needed to get Kameron's story. I was so stoked on the first story they wrote for us back in June for Queer pride, and since then, their story truly has changed. And it's changed into a powerful form of advocacy and exposure to the evolution that exists when someone is transitioning genders.
For Kameron's piece, I wanted to recreate a piece of art that Katy forwarded to me, something they found on the internet. It's an amalgam of pronouns, with "she" repeated atop the piece and "he" repeated below, and the dominant imagery comes in the form of watercolors behind the word, "THEY" in white. I outlined the letters "HE" of "THEY" because Kameron uses both He/his and they/them pronouns, so this subtle change makes a bit of a poignant statement.
Feel free to click above for the details of the piece. This one was so much fun to make and I think it came out pretty cool and I can't wait from Kameron to have it in their new office as they begin ANOTHER new chapter of their life at American University.
Could not be more proud of this human, and I cannot wait to cross paths with them again in the near future.
- Craig.